Posted: Wednesday, March 8, 2017 11:52 AM
---

CENTRAL SELF STORAGE #1 STORAGE & UHAUL!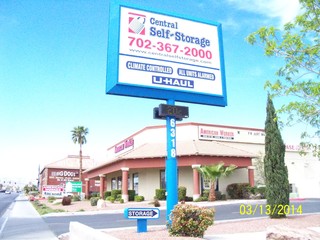 MOVING SUPPLIES & U-HAUL TRUCK RENTALS ON-SITE...AVOID THE END OF MONTH BLUES...MAKE YOUR NO OBLIGATION UHAUL RESERVATION @ 702-253-1856 TODAY!
GET ONE FREE MONTH OF STORAGE
on select units* (see manager for Details).
MONTH to MONTH RENTALS with NO LONG TERM CONTRACTS
& weprorate you in & out (with a 30 day written vacate notice).
We offer a variety of unit sizes 5x5, 5x10, 10x5, 5X15, 10x10, 10x15, 10x20, 10x25, 10x30 PLUS RV & Vehicle Parking
to handle all your storage needs. We have drive up and interior units, convenient location, gated access, individually alarmed doors, 24 hour surveillance, on-site manager and more...
Get all your
MOVING & PACKING SUPPLIES
at
CENTRAL SELF STORAGE
...
S, M, L & XL boxes as well as specialty sized boxes, locks, mattress bags, bubble wrap, etc...AND Remember the
PACKING TAPE TO SECURE ALL YOUR BOXES
!!
We offer BUSINESS & RESIDENTIAL
STORAGE
,
MOVING & PACKING SUPPLIES & U-Haul TRUCK & TRAILER RENTALS ON-SITE
...
We also have a KIOSK ON-SITE available 24/7...to Rent you a Storage Unit, Sell you a Lock, plus friendly options to make your Payment...
We are a neighborhood
U-Haul Dealer
and have truck & trailer rentals for all your moving needs!
Moving across COUNTRY
? No problem....we can reserve you a truck anywhere
U-HAUL
has equipment. Get your discount by renting your Storage Unit & truck from us within 30 days & we will give you a $19.95 credit on your following months rent...
CALL NOW TO MAKE YOUR RESERVATION ...702-253-1856
!
Need Storage
AFTER HOURS
? stop by our property and use our on-site
KIOSK 24/7
... available to rent you a storage, take a payment or sell you a lock.
 Select units may qualify for one FREE month, be sure to check out our
SPECIAL
when renting via
KIOSK
!
WE OFFER MORE DISCONTS & SAVINGS
...
prices are competitive and we can SAVE YOU CASH...CHECK OUT OUR WEBSITEwww.CENTRALSELFSTORAGE? For current pricing and availability.
We have the BEST CUSTOMER SERVICE & offer the Best Value & Prices in the Market. ALL your needs will be met at ONE Convenient Location...
6318 W. Sahara Ave @ Torrey Pines
We look forward to seeing you soon and learning how we can earn your business.
Daily Office Hours: Monday - Friday 10:00 am - 6:00 pm and Saturday 8:00am - 2:00 pm.
Closed Sunday and all major holidays.
GATE HOURS: 7 am to 9 pm 7 days a week.
Some restrictions may apply on the promotion for one free month of storage and available sizes are subject to prior reservations (*see manager for details).


Price Details:
Get a great deal on storage with no long term commitments @ CSS!
Property Type:
Self Storage
Powered by Central Self Storage of Burlingame
• Location: Las Vegas, lasvegas

• Post ID: 25491963 lasvegas